Calix Ceramics sintered silicon carbide (SiC) tiles offer superior material characteristics to standard wear tiles, making them the perfect choice for protecting your equipment and products.  Sintered Silicon Carbide Wear Tiles provide the best wear and corrosion resistance of any advanced ceramic material in the marketplace.  It outperforms all other ceramic materials when your application is facing severe corrosion, temperature, and wear challenges.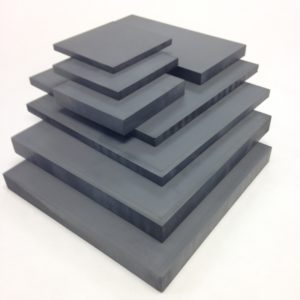 Sintered Silicon Ceramic Tile - Characteristics & Properties
Wear & Abrasion Resistance
Sintered Silicon Ceramic Tile - Sizes and Tolerances
Looking for sintered silicon carbide tiles? We've got you covered! Browse our inventory below and contact us to place an order today! 
[su_table]
| | |
| --- | --- |
| Tile Size | Tolerances |
| 4" x 4" x 0.200" Thk | +/- 0.030 L & W, +/- 0.010" Thk |
| 4" x 4" x 0.225" Thk | +/- 0.030 L & W, +/- 0.010" Thk |
| 4" x 4" x 0.250" Thk | +/- 0.030 L & W, +/- 0.010" Thk |
| 4" x 4" x 0.275" Thk | +/- 0.030 L & W, +/- 0.010" Thk |
| 2" x 4" x 0.290" Thk | +/- 0.030 L & W, +/- 0.010" Thk |
| 4" x 4" x 0.300" Thk | +/- 0.030 L & W, +/- 0.010" Thk |
| 4" x 4" x 0.315" Thk | +/- 0.030 L & W, +/- 0.010" Thk |
| 4" x 4" x 0.400" Thk | +/- 0.030 L & W, +/- 0.010" Thk |
| 2" x 2" x 0.125" Thk | +/- 0.015 L & W, +/- 0.010" Thk |
| 2" x 2" x 0.187" Thk | +/- 0.015 L & W, +/- 0.010" Thk |
| 2" x 2" x 0.250" Thk | +/- 0.015 L & W, +/- 0.010" Thk |
| 2" x 2" x 0.350" Thk | +/- 0.015 L & W, +/- 0.010" Thk |
| 30mm Hex Tile x 4mm Thk | +/- 0.010 L & W, +/- 0.010" Thk |
| 30mm Hex Tile x 6mm Thk | +/- 0.010 L & W, +/- 0.010" Thk |
| 30mm Hex Tile x 8mm Thk | +/- 0.010 L & W, +/- 0.010" Thk  |
[/su_table]
[siteorigin_widget class="WPForms_Widget"][/siteorigin_widget]
Sintered Silicon Carbide Ceramic Tile - Product Applications
Components of Mining Equipment
Sintered Silicon Carbide tile - pricing
Sintered Silicon Carbide Products are priced based on the following:
Tile Size
Tile Quantity
Tolerance Requirements 
Quantity of Pieces
CALIX CERAMICS - CERAMIC PRODUCTS